HEALTHCARE
Improve operational efficiency, share clinical practice updates, and reduce burnout.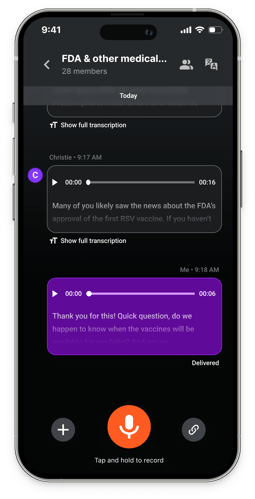 Create communication channels for providers across shifts and locations to improve existing processes and knowledge sharing.
Empower your team to use secure voice messages to communicate easily on projects despite working different shifts or in dispersed locations. As providers try different workflows or solutions, they can quickly record learnings in between patients or before heading home from their shift.
And project teams don't need to schedule calls anymore to get the latest update; with voice messages, everyone can listen to or read the updates as they start their shift or in between tasks.
Keep your team informed on new medicines, changes in medical procedures,
and

other healthcare news.

Give your practitioners easy access to the up-to-date information needed to deliver exceptional patient care.

In a fast-paced environment where every minute counts, relying on emails or meetings for updates may not be efficient.

With voice messages, you can ensure everyone on your team receives the latest updates in a convenient and easily digestible manner before they begin their shift.

And with listen receipts, you can now confirm who has tuned in to your update.
Enable your team to start authentic conversations that improve employee engagement and reduce burnout.
Often, practitioners move quickly from one patient to the next, leaving little time to process or reflect on the stressful situations they encounter. This results in miscommunications that cost healthcare systems $1.7 billion annually.
With Chat by Storyboard, you can record authentic interviews where providers openly share their experiences and offer strategies for mitigating burnout. This creates a platform for your employees to support and connect with one another on a deeper level.
Ready to
empower

your team?